I found a couple breakfast recipes online that I tried and are definitely being repeated in this household. So, I don't take anything from the original poster - I am posting my own pictures, a link to the original recipe, and my comments on these dishes.
Overnight Coffee Cake
Soooo good and very moist! It was easy making it the night before and then refrigerating it. Just perfect when you have overnight or early morning guests. I was having a good friend over to visit one morning and this was great to make and not be rushed.
You can get the recipe
here
. I cut the baking time to just 25 minutes - but that is probably due to my gas oven. I usually have to cut the time for every recipe! I hope you try it and enjoy it!
Quiche Lorraine
I have made this a couple times (most recently for the Royal Wedding Party - but put too much bacon in that one and forgot to prick the crust! I did do it the night prior and just reheated it on very low.) and love it. Leftovers are especially good, too!
You can get this delish recipe
here
. I just use the bacon that I can microwave. I would just use a half pkg. of the micro bacon from Oscar Mayer - the pkg size that is about $3-$3.50. I also have not used chives in this recipe - not because I don't like them just because I did not have any!! I cannot for the life of me remember what kind of cheese I used the first time, but the second time I just used shredded cheddar. I only use the refrigerated-type of pie crusts for this and all my pies, too.
Well, I hope that you enjoy these recipes and check out other recipes at those links, too.
We have been experiencing thunder storms recently and Lucy does not like them at all. She hides under our bed and after the thunder stops it takes her a while to make her way out. She has to slowly let out her body to make sure that it's safe!!
I am linking to
Mouthwatering Mondays
at
Southern Fairy Tale.
You can see the other recipes
here
.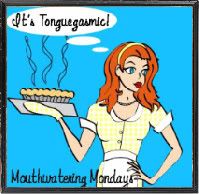 I am also linking to
Life In Grace's
Christmas Breads, Breakfast & Drinks Linky Party.
Please click
here
to see some great recipes!