Nut Rolls
1/2 lb. butter (2 sticks), softened
6 C. all-purpose flour
2 pkgs. dry yeast (regular)
1 can milk (like Carnation evaporated)
1 1/2 tsp. salt
6 T. sugar
4 egg yolks, beaten
Filling:
3 1/2 C. ground walnuts
1 1/2 C. sugar
4 egg whites
First of all - for me this is a 2 day process. I like to make the dough and refrigerate it overnight. It makes the cleaning up process easier.
Dough
- Dilute the yeast in 1/2 C. lukewarm water (I microwave the 1/2 C. water in a bowl for 30 seconds on high). Then, add 1 T. sugar (additional to above) - I don't stir it unless something does not look mixed. Let stand til it gets foamy - which is when I am about ready to add it to the dough.
I use my Kitchenaid for this -- put the flour, sugar & salt in the bowl. Blend it together. Add the butter to the flour mixture and mix it so it looks like cornmeal. Next, add the beaten egg yolks, canned milk, and the yeast mixture to it and beat well until all combined. This will be a soft dough. I usually put it in a large bowl and cover it with plastic wrap and refrigerate it overnight.
Next day --
Nut Mixture
- I set the eggs whites out for a bit to get more room temperature - maybe a half hour or so. In a medium bowl - enough to hold all the walnuts - I put the eggs whites in and beat with an electric hand mixture for a little while - til it gets all frothy. Then, add the sugar and ground walnuts and I use a wooden spoon and mix it all together. Set aside.
I bring out the nut roll dough and mark off into 6 sections. I get my pastry board ready and wet a kitchen towel to put under so the board doesn't roll around. If you find the dough is becoming too soft you may want to keep the rest refrigerated while you roll out each one, but I usually just keep mine out and don't stop in between.
Take one section and knead it on the floured board 20-30 times. Roll each section on the floured board - it will be the thickness of a pie crust - looking at my pictures to see how I do it - more of an oval shape to it. Spread the dough with the walnut filling (making note to use about 1/6th of your filling). Then, roll up jelly roll style (I start with the worst looking side because you want the better side to be the one to evenly tuck under). I line my baking sheets with parchment paper and put 2 rolls on each sheet. I then cover them with a kitchen towel and place them in a warmer area of your home to let them rise. (They won't rise much like a regular bread roll - but they do some.) Let them rise for 1 hour.
When you are ready to start baking - preheat the oven to 350 degrees. Bake each cookie sheet (2 rolls on each) for about 30 minutes. I have melted butter ready (do about 1/2 stick in just a cup/small bowl) and brush the melted butter on as soon as I take it out of the oven.
This recipe makes 6 rolls. If you like poppyseed - get a can of poppyseed filling and spread that on instead of the nut mixture on 1 or 2 rolls. I find that 1 can can easily do 2 rolls.
I have been making these for over 30 years and over time have changed up the recipe. After about 10 years I changed the dough recipe to this one, but the nut filling is my Mom's recipe. She did not care that I stopped using her dough recipe (this one is from a lady from her church). She said she was just glad that I was making the nut rolls!!! I make these every year at Christmas and Easter. They freeze wonderfully, too. We wrap them in aluminum foil first and then wrap in freezer paper. They are still very moist. It's great if you want to give to someone and they are gone for the holiday -- you can have one waiting for them when they return. I love that it makes 6 rolls, too - that way we have plenty and there are still several to give to family and neighbors.
Here come the pictures --
The yeast all foamy -
The flour, sugar, salt -
Adding the butter -
Yeast mixture, milk & eggs added -
Mix well -
Ready to be refrigerated overnight -
Nut filling --
Egg whites all frothy -
Walnuts & sugar added -
Mix well -
Pastry board and we towel all ready -
Section off the dough into 6 -
Kneading and rolling -
Spread the walnut filling -
Roll up -
Keep repeating -
2 to a cookie sheet -
Right out of the oven - brushed with butter --
A photo of both the nut and poppyseed -
What does Lucy do while I am working on this baking project? She is enjoying me bringing out some big bowls that don't get used often so she can check out the overflow cupboards. Is this her way of making sure I don't close the door?
I am linking this to
Domestic Fashionista's Holiday Recipe Linky Party.
Click
here
to get many ideas for holiday goodies!!
Also, linking to
Schue Love Holiday Recipe Party.
Just click
here
to see the amazing recipes!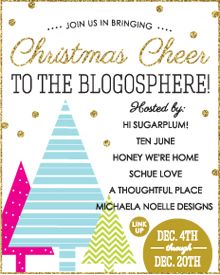 And, linking to
Stone Gable's Blog Christmas Recipes & Tablescapes.
Click
here
for some great recipes to still try this year or to save for another time.
Plus, linking to
One More Time Events Desserts & Holiday Food Linky Party.
Just click
here
for all the recipes.