2012 Christmas Mantel
It began with Santa's hat -
Followed by Frosty's hat -
And, the rest magically appeared -
Nearby vignette -
What was Lucy doing while I was taking pictures?
I must have been disturbing her nap time!!!
I am linking to a fabulous Christmas Mantel Linky Party at
Kathe with an E
. Just click
here
to see the amazing Christmas Mantels.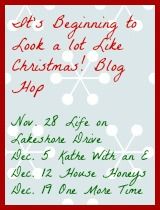 Also, linking to
Ten June's Christmas Mantel Link Party.
Click
here
and prepar to be 'Wowed'.